We use hot water for so many things in our home. When there's not enough to go around, it becomes an inconvenience and begins to impact our quality of life. Orchard Plumbing is your definitive resource for water heater repair in Las Vegas, NV, to make sure you're getting the hot water you need in your home, any time you need it.
Our team has experience in all facets of hot water heater service and will quickly navigate any problems your unit might be having. We've worked with all major brands and models, bringing an unparalleled level of knowledge with us to every job. Our abilities include:
Water heater repair

From anode rod replacements to pilot light troubles, damaged hookups to general piping problems, we're equipped with the insight and equipment to assess and address any water heater troubles you might be having. Count on us to set them straight quickly, so you can get back to enjoying a warm shower or a warm cup of tea.

New installations

Has the time come for a new water heater to be installed in your home? We'll take care of the entire installation process—including removal of your old unit! We can even help you pick the right unit for your budget and home capacity, to ensure you're getting the most for your money.

Troubleshooting

Hot water troubles can have a variety of root causes. Give us a call to inspect your system thoroughly to get to the bottom of your hot water woes. We'll figure out what's causing trouble and recommend solutions, while also providing estimates.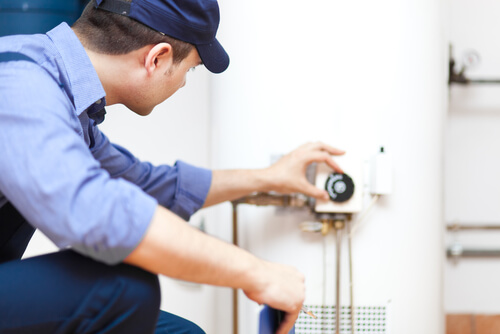 Not only do we offer the entire gamut of water heater services, we're knowledgeable regarding both traditional tanks and tankless units!
No matter if you've got a decrepit tank heater that's decades old or a brand-new tankless unit from last year, trust that we're equipped to service it to the fullest levels of excellence.
If you're turning the knob for hot water and not being met with the temperature you want, give Orchard Plumbing a call.
We're your one and only resource for water heater service in Las Vegas, NV. Reach us today at 702-471-6200.